Buy a New Furnace From Us, and We'll Give You 25% Off Our Indoor Air Quality Products!
 
Cold weather is well on its way, so if you are in the market for a new furnace, buy it from us! If you do, we'll give you 25% off our air quality products, including our humidifiers, UV filters, and Ecobee thermostats.
Benefits of a York Furnace
LOWER COST OF OWNERSHIP
YORK® gas furnaces reduce energy and heating maintenance costs and feature durable construction, as well as efficiency ratings as high as 98% AFUE.
RELIABLE SUPPORT
Our Certified Comfort Expert™ Contractors will ensure your gas furnace is installed and serviced correctly from the start.
PRECISE, CONSISTENT TEMPERATURES
YORK® gas furnaces are designed to meet changing comfort needs with innovative features like variable speed technology, two-stage operation, and smart controls.
CONFIDENCE GUARANTEED
Built to top-quality standards and supported by industry-leading warranties, YORK® gas furnaces deliver consistent whole-home comfort.
Buy Now and Save!
Get 25% off our air quality products when you buy a new furnace from Nottawasaga Mechanical!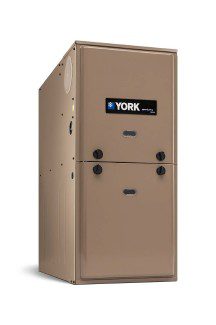 Here is why you should buy your furnace from us:

Excellence has been our hallmark since 1986.
We proudly serve many communities in our area, including Wasaga Beach, Collingwood, Barrie, Stayner, Blue Mountains, Thornbury, and other surrounding areas.
We value quality work and products
"Nottawasaga Mechanical is one of the very best mechanical services in Ontario. The company installed my new furnace and A/C units in January 2020. They completed the work in one day and were very thorough and neat in their installation. The workers were also respectful and courteous to both myself and my wife. They were very concerned on how they worked in the house. Drop sheets were placed on every surface where they worked, and anything that had to be moved was replaced with care. The job overall was impressive and very neat. I would recommend Nottawasaga Mechanical to everyone in their service area, as the work they did for us was neat and very professional. Thank you, Nottawasaga Mechanical — I give you five stars for completeness, neatness and a professional job well done." –Kevin Q.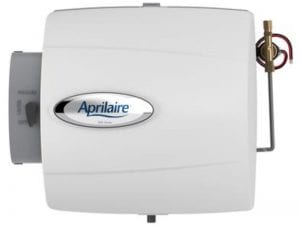 Bypass Humidifier
Reducing pet dander, prevent flu and allergies, and relieve scratchy throats and dry skin. This state-of-the-art humidifier also protects wood furniture and floors, and reduces heating costs.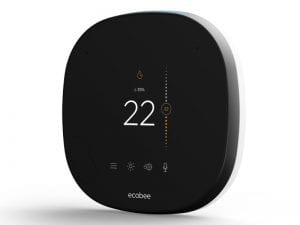 Ecobee Smart Thermostats
Save up to 23% on annual energy costs with this ENERGY STAR® certified thermostat. You can control your home's temperature from anywhere on iOS and Android. Also works with Alexa.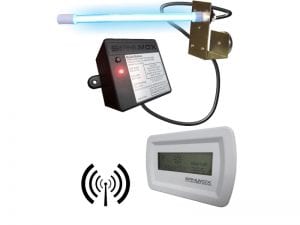 Sanuvox UV Filter
UVC Germicidal Coil Cleaner destroys mold & odors on the coil and increases energy efficiency. A 3″ wireless LCD display provides important information from a distance of up to 60 feet.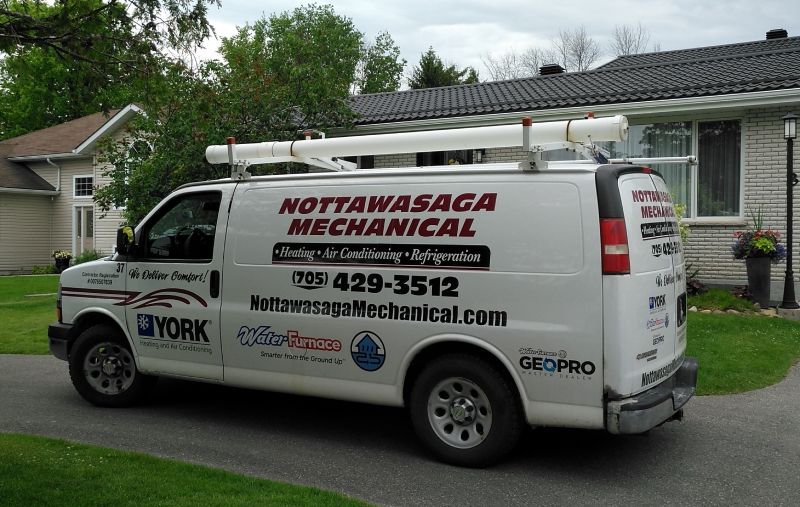 About
The preferred choice for HVAC sales and service since 1986.
When Nottawasaga Mechanical started back in 1986, providing superior services was our main priority. Slowly, our company grew from a three-man operation to a busy company with over 30 full-time employees who are always ready and waiting to serve you. From the staff in our office to the technician who comes to your home, you can rest easy knowing we are committed to maintaining your home's comfort.